Precision Metal Parts Manufacturing
Petersen Precision is the turnkey manufacturing partner you need for your challenging projects.  Our extensive array of manufacturing technologies and expertise will bring your product to market on time with support from prototype to volume production.  
Our ISO 9001 certified organization operates process technologies including Fine Blank Stamping, Double Disc Grinding, Fine Grinding, Lapping, Creep Feed Form Grinding, Centerless Grinding, Surface Grinding, as well the full complement of CNC machining capability with production 4-axis Horizontal Mills, Vertical Mills, CNC Swiss Screw machines, CNC Lathes, Wire EDM and more all under one roof. These processes are ideal for your products that require more complex, intricate designs and those that require tight tolerances.
We serve high-end OEMs and specialty industries from the first prototype to high volume production in one large production facility.  Our engineers will help your team develop cost-effective solutions to meet your most challenging precision part needs.  We utilize statistical methods for quality control and engineering and our engineering team can support your PPAP validations to meet your Medical or Aerospace process approval requirements. 
We are experts in the manufacturing of precision metal parts through a variety of processes. These precision technologies include:
This specialized metal part stamping process can produce accurate, intricate parts to very tight tolerances, with clean sheared edges and detailed coined features.  Our extensive inventory of fine blank presses ranging from 40 to 250 tons is ready to meet your production needs.  With in-house tool design and fabrication, we can support your time to market and product cost needs.
Petersen Precision maintains a large inventory of late-model high end CNC machining centers configured with pallet changing capability to support 24-hour production.  We use both 4-axis horizontal machines and pallet changing vertical machines for high utilization and flexibility for production.  Our experienced team programs with MasterCam software and our state-of-the-art tool setting capability and real-time inspection sampling assures excellent part quality and repeatability on the most challenging materials.
Petersen Precision has 55 years of grinding experience and a wide variety of grinding technologies available to produce parts with challenging design needs for precision and geometry.  Our grinding processes include Creep Feed form grinding, Double Disc Grinding, Blanchard rotary surface grinding, CNC surface grinding, Centerless Grinding, OD Grinding and Honing.  These processes combined with Fine Blanking and CNC Machining give us the capability to produce complex parts with very tight tolerances.
With over 55 years of experience in lapping, Petersen Precision offers processes to achieve the finest level of flatness and thickness precision. Loose abrasive polishing (also known as lapping) is a process that flattens and polishes metal surfaces to produce a fine finish. Using this process, we can produce precision metal parts with extremely flat surfaces.  We also have the technology for cylindrical lapping round surfaces to tolerances in the millionths.
Our parallel fine grinding capability compliments ground or machined parts with precision capability not achievable by other means.  The fine finish and tight tolerance capability for flatness, parallelism, and thickness in this high production process is a cost-effective way to produce precision flat parts.
Wire EDM is an accurate machining process that can produce high-precision parts using any metal. Petersen has a large inventory of late-model Mitsubishi wire EDM machines ready to support front-end part prototypes, volume part production, and all our internal tooling needs.  We have additional 4th axis rotary EDM capability for producing complex geometries with this technology and can manage a range of wire sizes down to .004" diameter for fine feature and small radius capabilities.
Machining, grinding and fine blanking precision parts requires an equally wide variety of deburring, finishing and cleaning processes to meet end part specifications.   Petersen maintains such processes including vibratory deburring, rotary barrel deburring, centrifugal disc deburring, continuous sand and brush deburring, as well as skilled operators where hand deburring is required.  In addition, our cleaning technologies include the automated Eco-Clean self-contained alcohol vapor degreasing system and Crest aqueous ultrasonic DI water cleaning systems producing near clean room part cleanliness and leaving them ready for plating or other surface treatment.
In addition to the various manufacturing technologies above, Petersen performs light component assembly work, bend forming, micro-abrasive blasting, and laser marking.
Our engineering team can design and build customized solutions for assembly, pin insertions, and testing for your parts or assemblies that provide cost-effective and repeatable automated solutions that solve your team's problems. 
We maintain a selection of qualified special process subcontractors to perform plating, passivation, and various types of heat treating that meet all industry standards, and many of the major OEM-approved supplier approvals.  We have extensive knowledge of these processes and can help support your material and special processing needs.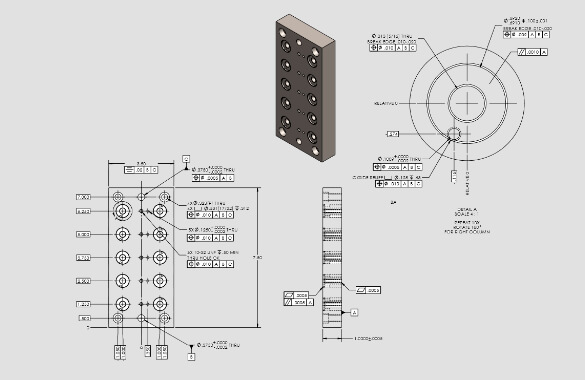 Dedicated to Delivering Top Quality Parts
At Petersen Precision, our quality management system is ISO9001 certified and AS9100D compliant. We utilize our engineering expertise in concert with our quality system to develop statistically capable processes, document it so that it can be repeated, adjust it to meet the needs of our customers, and review it on a timely basis to ensure continuous improvement. We are experienced in capability studies and PPAP processes that support AS9100 and ISO 13485 product qualifications.
We provide design consultation to improve part manufacturability and welcome the opportunity to be involved in your part design processes as early on as possible, so that you may take full advantage of our many unique fabrication technologies.