Precision Metal Parts Manufacturing
Precision metal manufacturing is a value-added service that produces finished metal components. Through a variety of processes like grinding, lapping, machining, and more, precision metals parts are produced from raw materials. These processes are ideal for products that require more complex, intricate designs or that require accurate, tight tolerances.
Petersen Precision is a manufacturer of small to medium-sized precision metal parts. We provide a technical design for manufacturing combined with comprehensive manufacturing technology to solve customer's difficult product and component challenges. We serve high-end OEMs and specialty industries from the first prototype to high volume production in one large production facility.
We are experts in manufacturing precision metal parts through a variety of processes. These precision capabilities include:
This metal part blanking process can produce accurate, intricate parts in a single stroke of the press. Using our top-of-the-line technology and decades of expertise, we can produce the tight tolerance flat metal parts that your project requires.
CNC machining technology provides complex, three-dimensional metal parts and components, as well as the ability to finish parts that are first processed using other methods. Using our state-of-the-art technology, we can produce precision metal parts using a range of materials including stainless steel, tool steels, exotic alloys, and more.
Wire EDM is an accurate machining process that can produce precision parts using any metal. This process is ideal for complex features like small holes, narrow slots, pockets, and more.
Using advanced technology, specialized grinding media, wheels, and a variety of grinding techniques, we can produce the tolerances and surface finish that your metal parts require. We specialize in Blanchard grinding, surface grinding, centerless grinding & O.D. grinding, creep feed grinding, and double-disc grinding.
Loose abrasive polishing (also known as lapping) is a specialized manufacturing process that polishes metal surfaces to produce a fine finish. Using this process, we are able to manufacture precision metal parts with uniformly flat and round surfaces.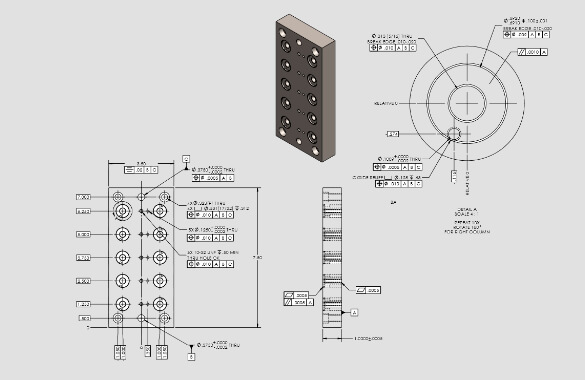 Dedicated to Delivering Top Quality Parts
At Petersen Precision, our quality management system is ISO9001 certified and AS9100 compliant. we utilize our engineering expertise in concert with our quality system to develop statistically capable processes, document it so that it can be repeated, adjust it to meet the needs of our customers, and review it on a timely basis to ensure continuous improvement. We are experienced in capability studies and PPAP processes and support AS9100 process qualifications.
We provide design consultation to improve part manufacturability, and welcome the opportunity to be involved in your part design processes as early on as possible, so that you may take full advantage of our many unique fabrication technologies.
We have an in-house tool and die shop to ensure that all tooling needed to produce your parts meets quality standards and matches the exact specifications of your design.