Contact Us
Request for Quote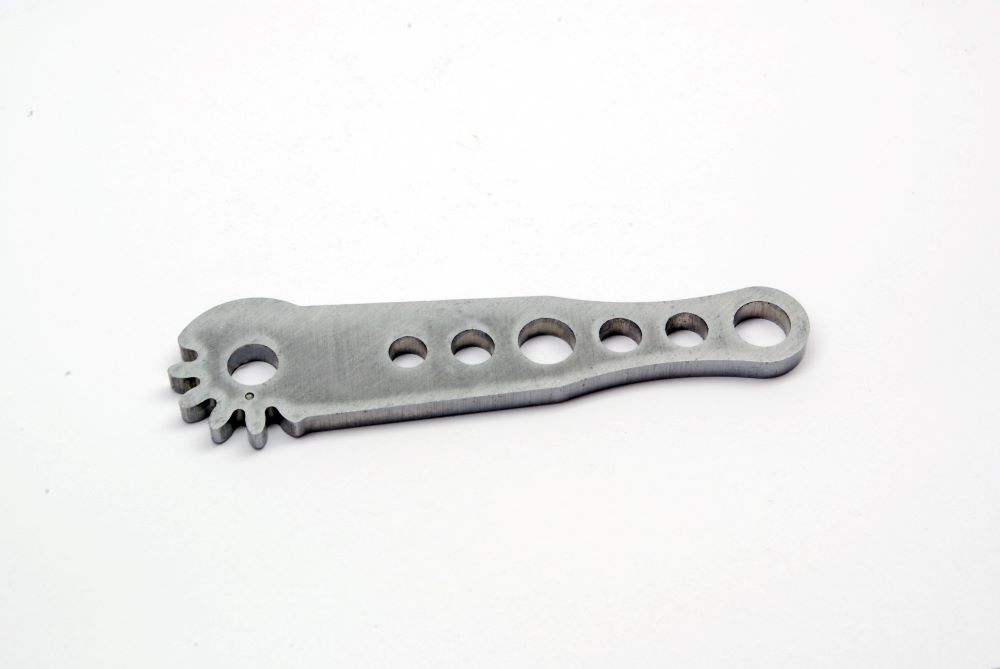 Fineblanked Gear Part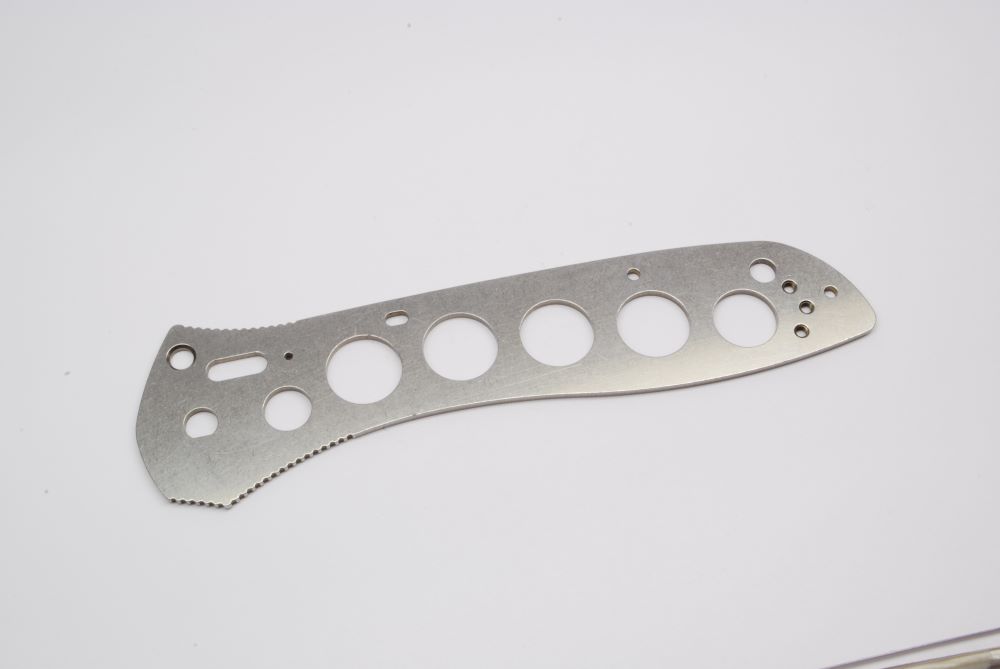 Fineblanked Knife Handle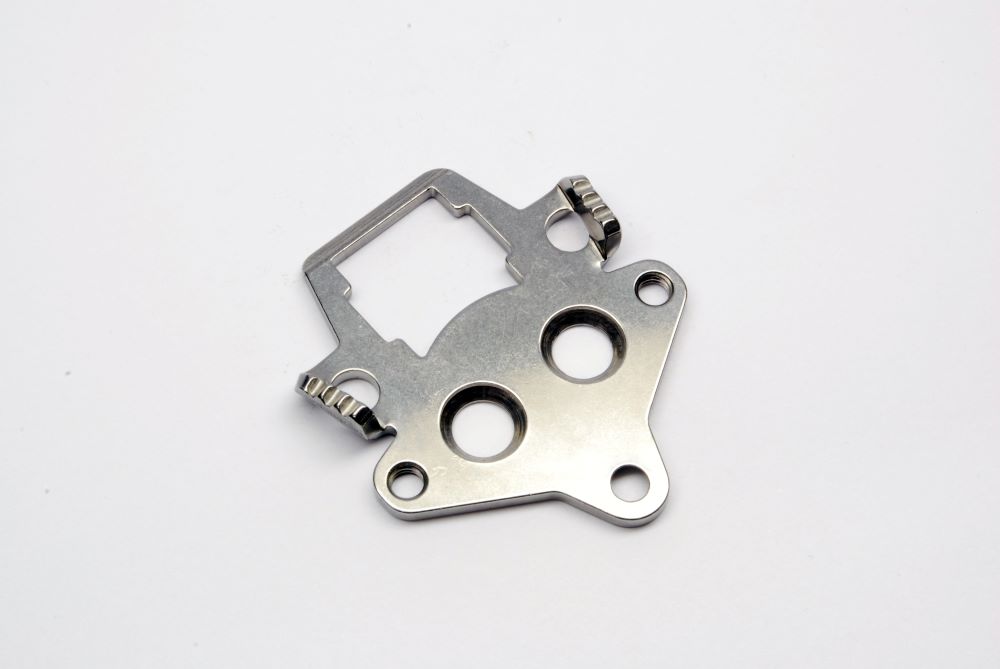 Fineblanked Bicycle Component
Precision Fine Blanking Services
Precision fine blanking is a specialized manufacturing process that produces parts with extremely tight tolerances and a clean edge, enhancing the aesthetic value of the part. The material's precision cut edge is meticulously produced through a finely tuned metal stamping process that cannot be produced through conventional means.
At Petersen Precision, we provide fine blanking services that are engineered to your project's exact specifications. Our precision fine blanking services, coupled with our value added secondary services reduce the need for additional production processes such as reaming, broaching, edge grinding, countersinking, counter-boring, milling, and forming.
For more information on precision fine blanking services for custom parts, get in touch with our sales team or call us at 650-365-4373 and we will gladly speak with you regarding your project's specifications. With more than 30 years' experience in fine blank stamping, Petersen Precision is your trusted industry expert.
What are the Advantages of the Fineblanking Process?
Metal fine blanking can produce several intricate profiles in a single operation, with edge and surface finishes comparable to machining. Fine blank processing does not generate the severe roll-off, die break, and curvature that conventional stamping operations produce. Fine blanked parts also maintain higher accuracy and better feature-to-feature tolerances in their profiles, holes, and other details than conventionally stamped parts. Additional benefits include:
Superior edge quality, unsurpassed by any other stamping process
Enhanced part flatness due to the counterpressure available through the cutting process
Superb dimensional control, accuracy, and repeatability
Reduced secondary finishing services due to precision die clearances
Extremely economical for large production runs
Multiple features can be stamped at once to maintain precision between features
Fine Blanking High Volume Production Capabilities
Custom fineblanking services are highly regarded, providing quick, efficient, and accurate part productions of complex parts. If your project requires complex, small- to medium-sized metal parts in quantities of tens to hundreds of thousands or more, fine blanking is the fastest, most efficient, and most cost-effective production method available.
Fine Blanking Services Produce High Efficiency Complex Metal Parts
Perhaps the greatest benefit of fine blanking is that a single stroke of the press is all that is needed to produce a complete-to-print part or a dimensionally consistent near-form blank for later processing. Fineblanking technology provides access to a variety of easily fabricated and consistent features including:
Intricately shaped holes/cutouts (i.e., not just circular holes)
Slots and projections
Coining or thinning
Shallow chamfers
Semi-pierces (mimic pressed pins/pockets, elevated rails/inset grooves, or other stepped features)
Counterbores and countersinks
Forms, Bends and Offsets
Certified Fine Blanking Services from Precision Metal Stamping Experts
Petersen Precision has the experience and the expertise to produce fine blanked parts that match your specifications. We operate out of an ISO 9001 Certified manufacturing facility and are uniquely equipped to take from the design stage through full production.
We offer DFM services to help make your parts faster, easier, and less expensive to produce. Our engineers will work with you, as needed, to optimize your designs for better manufacturability, while optimizing the overall fit, form, or function of your parts as required.
All fine blank stamping dies are designed, built, and serviced in-house to ensure superior precision and quality for your finished parts. Dies are serviced and maintained for the life of your program, whether you need ten thousand parts a year or a million.
Fine Blanking for Tight Tolerances & Extremely Accurate Parts
At Petersen Precision, we utilize the fine blanking process to achieve excellent dimensional control with consistent repeatability. Fineblanking allows us to produce accurately finished components with remarkable flatness, including inner and outer forms that are cleanly sheared to the precise specifications of your project. Some of the capabilities of precision fine blanking include:
Tolerance capabilities better than +/-.0010" on feature location and size for the life of the program
Creates 100% sheared edges with nearly 90° edges (minimal draft, nearly square)
Dimensional profile accuracy akin to precision machining and highly repeatable
Semi-Pierces, Coining and Forming operations can be integrated into the process to minimize later processing
Precision Repeatability & High Volume Production
High precision blanking is an extremely accurate way to produce parts with tolerances equal to or better than high-speed stamping or basic machining operations. Our fineblanking processes ensure precise repeatability from the first piece to the last, even for production runs with quantities in the millions.
What Materials Can Be Fineblanked?
At Petersen Precision, we work with a wide variety of metals, in coil or strip form. All materials are stamped in an annealed state and some materials can be hardened after stamping. We can produce your fineblanked parts from:
Fine Blanking vs Progressive Die Stamping
The fine blanking process produces die cut parts with squared edges by applying equal pressure to the top and bottom of a metal strip or coil. The resulting shearing action is akin to an extrusion which results in a part with smooth edges, a high degree of flatness, and tightly held dimensional tolerances. Parts designed for fineblanking may also require less finishing than conventionally stamped and machined parts.
Unlike progressive die stamping that utilizes multiple steps and workstations to complete the finishing service of a part, fineblanking provides advanced finishing services in a minimum number of steps. This ultimately saves a significant amount of time, providing significant cost savings for large scale productions.
Contact Petersen Precision for Fine Blanking Services Today
Petersen precision is your trusted source for complex, high precision fine blanking services. We deliver high quality, high precision fineblanked parts for all industries and applications. Request a quote today, or contact us to discuss your specific project needs.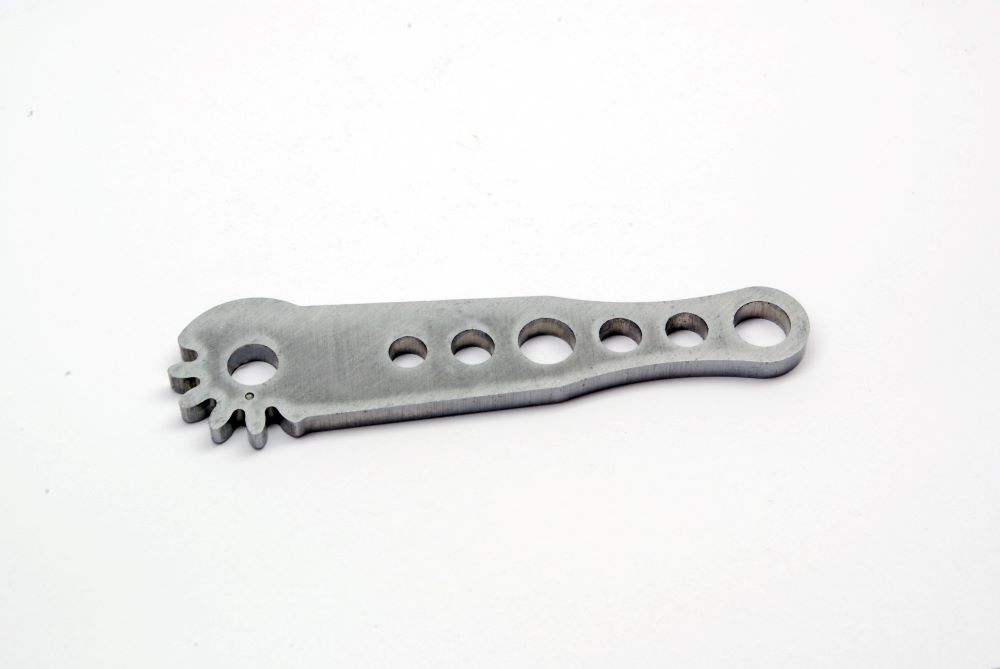 Fineblanked Gear Part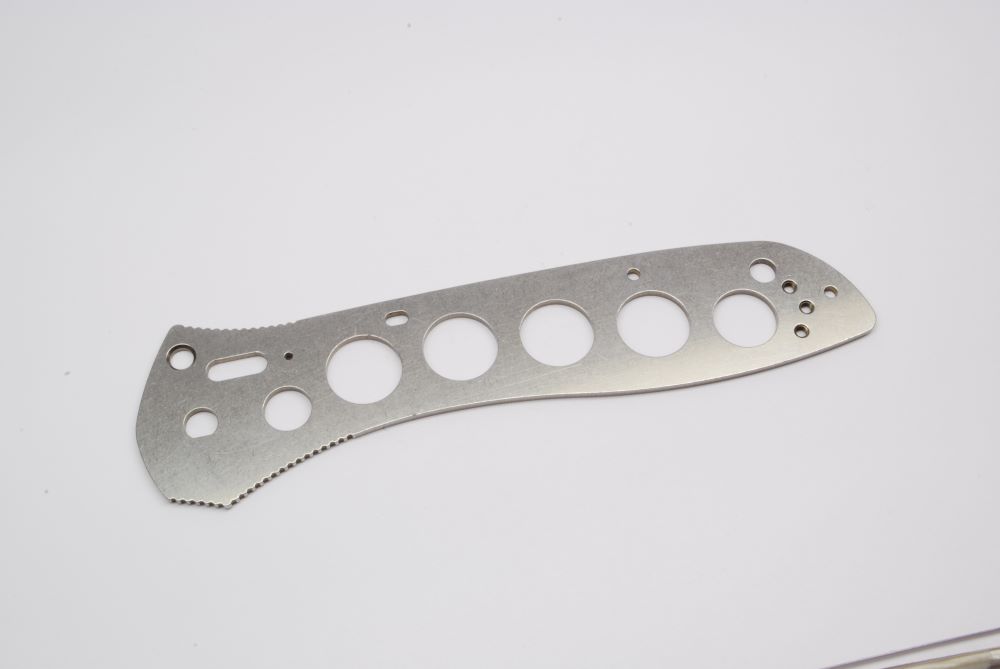 Fineblanked Knife Handle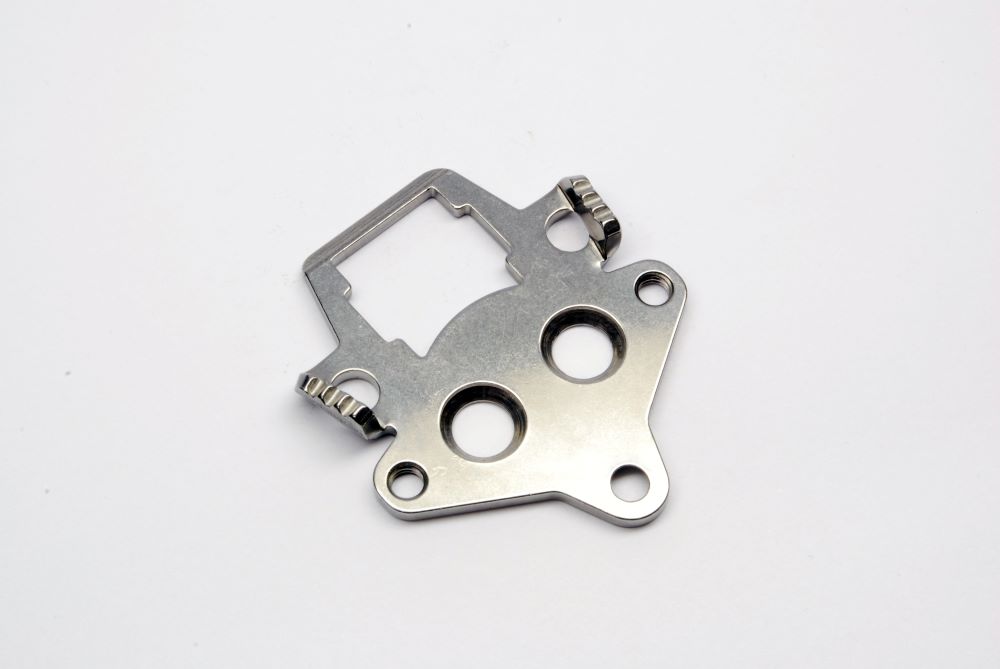 Fineblanked Bicycle Component